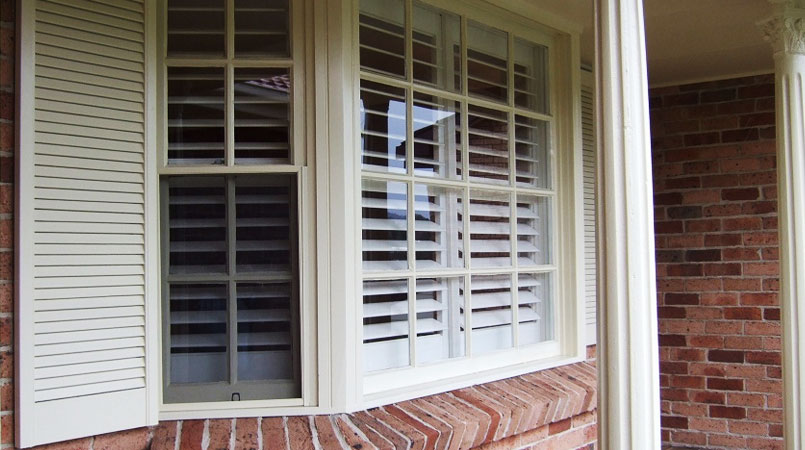 Want Plantation Shutters? Before You Order, Read This
February 21, 2018

Today's plantation shutters are a great way to solve two design challenges: 1) how to shade your home from the summer sun's rays and 2) how to create a timeless look for your home. Yet before you order, you need to look at all of the available options so you can choose the right plantation shutters for your home. With a variety of materials, styles, and colours, you'll have a wide range of choices.
1. Choose a Shutter Panel Style
Although we can customise plantation shutters for just about every kind of decorative window—even arched, hexagon-shaped, or other windows—you have several choices when it comes to shutter panels for your home's regular windows: full shutters that open and close as a single panel, café shutters that cover the lower half of your window, or the double-hung style that you can open separately at both the top and bottom.
2. Choose Where to Mount Your Shutters
You can mount your shutters inside your window opening or outside. If you have decorative moulding, it's best to mount them inside the opening to showcase your moulding. If, on the other hand, you don't have moulding, an outside mount is best. Outside-mounted plantation shutters have built-in moulding that will create a finished, stylish look.
3. Choose a Louvre Style
If you have larger windows, you might prefer large louvres to give you the clearest view. Smaller, thinner louvres are best for small windows. Too-large louvres may overwhelm a small window.
4. Choose a Material
Plantation shutters come in aluminium, basswood, cedar, and PVC. You need to take into consideration what kind of look you want to have, what kind of care each material needs, and whether you may want to paint them or stain them in the future. PVC shutters are easy to care for, but not as easy to paint as aluminium or timber. If you like the natural wood look, as well as the option to change the paint or stain colour in the future, timber shutters are the better choice. If you do choose timber plantation shutters, though, be sure to specify that you want mortice and tenon joints. These strong joints will outlast common dowel and glue joints for shutters that will serve you well for years to come. When you plan ahead, it makes it easier to choose the perfect plantation shutters for your home. If you're ready to order yours, contact the knowledgeable shutter professionals at Apollo Blinds for your free measurement and quote today.